Learning to read music can be a big challenge for any student. For some students with learning disabilities, difficulty reading can be an obstacle to traditional music learning altogether. One tool that can help students with learning disabilities read music more comfortably and effectively is colour. There are a number of methods out there that use colour coded notation, including:
Hubicki Colour Staff
Figure Notes
Occupational Octaves

If you'd like to use your own learning materials, you can also adapt them yourself using colour. Before we take a look at some examples, it's important to note that there are any number of ways to adapt music notation with colour. As a teacher, feel free to be as creative as you want in finding ways to make reading more accessible to your students. Here, we'll cover a few types of adaptations that you can try out. You can also use them as inspiration to come up with your own ideas!
1. Colour every note: This works well for students who need a lot of support with music reading. You can colour just the note heads, which will help them to look in the right place if they transition to playing without colours. If they need a larger object to focus on, you can colour the note heads and the stems.
2. Colour anchor notes: Choose an anchor note and colour only that one. The student then learns to read the other notes relative to the anchor note.

3. Colour LH/RH clefs for piano: This can help piano students who struggle with knowing which staff to associate with their left and right hands.

4. Colour overlays: Students with learning disabilities can sometimes experience visual stress from the black and white contrast of regular music notation. This can make it hard for them to read the notes. If your student struggles with visual stress, you can try a colour overlay, which reduces the contrast between the black notes and the background. Different coloured backgrounds will work for different students, so you may have to try a few different colours to find the one that works best for them.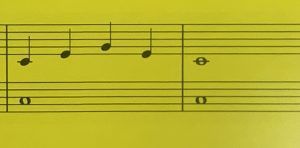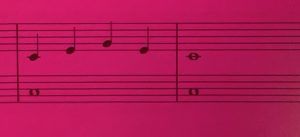 Hopefully, these examples have helped you think about your own students and the ways you can use colour adaptations to help them reach their full musical potential. Again, there is really no limit to the ways you can use colour to adapt musical notation! For many students, these ideas can be a great way to get them started, and then you can gradually remove adaptations as they learn. For others, these adaptations will just be part of the way they make music, and that's ok too! The most important thing is to find something that is accessible to the individual student. That will set them up for success from the beginning, so they can learn without being overwhelmed by reading, which is just one part of making music.
Happy Teaching!
Created with